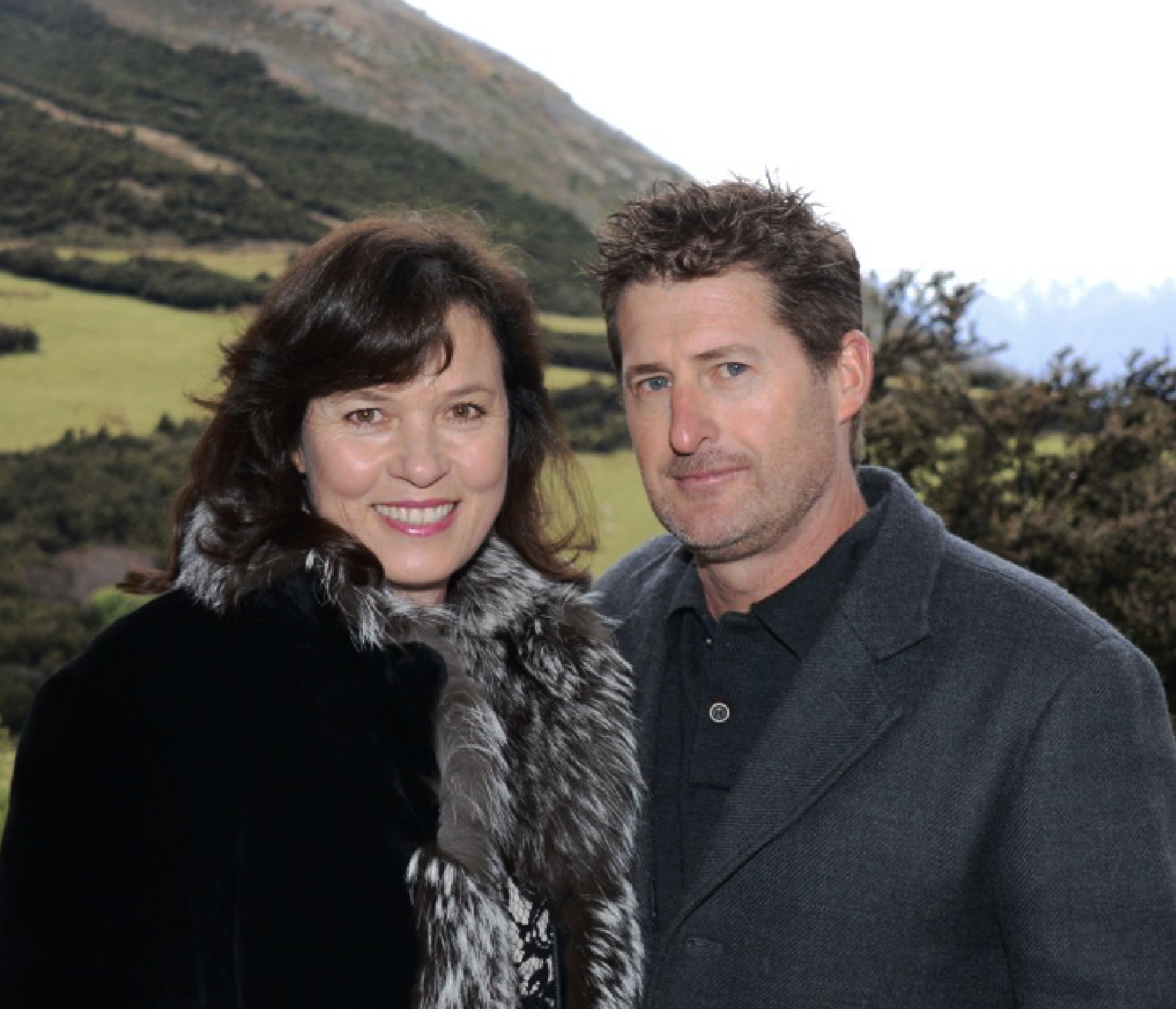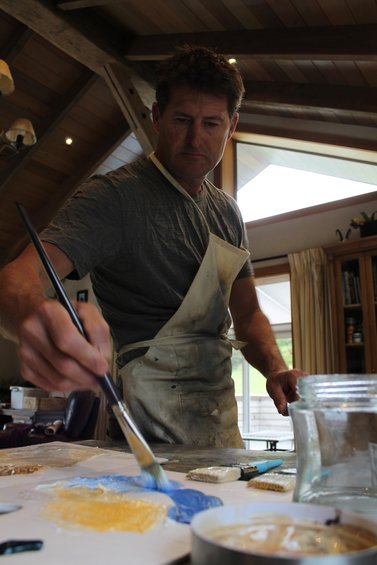 Ivan Clarke is a well-known artist living on the doorstep of UNESCO world heritage areas in the beautiful southern-lakes region of New Zealand. Ivan was initially known for his powerful landscapes, figurative and impressionist works painted with Oil on Canvas, but in more recent years he has become well recognized for the creation of Lonely Dog. When he was just a boy, Ivan started imitating his father at the easel on rainy days. By the time he reached 11, he was selling his art without most being aware that they were the works of a child. Ivan and his talent continued to mature. He learned the family trade of sign painting, illustration, and commercial art. His pastime eventually became his life's work and his livelihood.
Today, Ivan is more passionate than ever before about bringing the legend of Lonely Dog to life in an ever-widening arena of traditional and modern media, and sharing it with the world.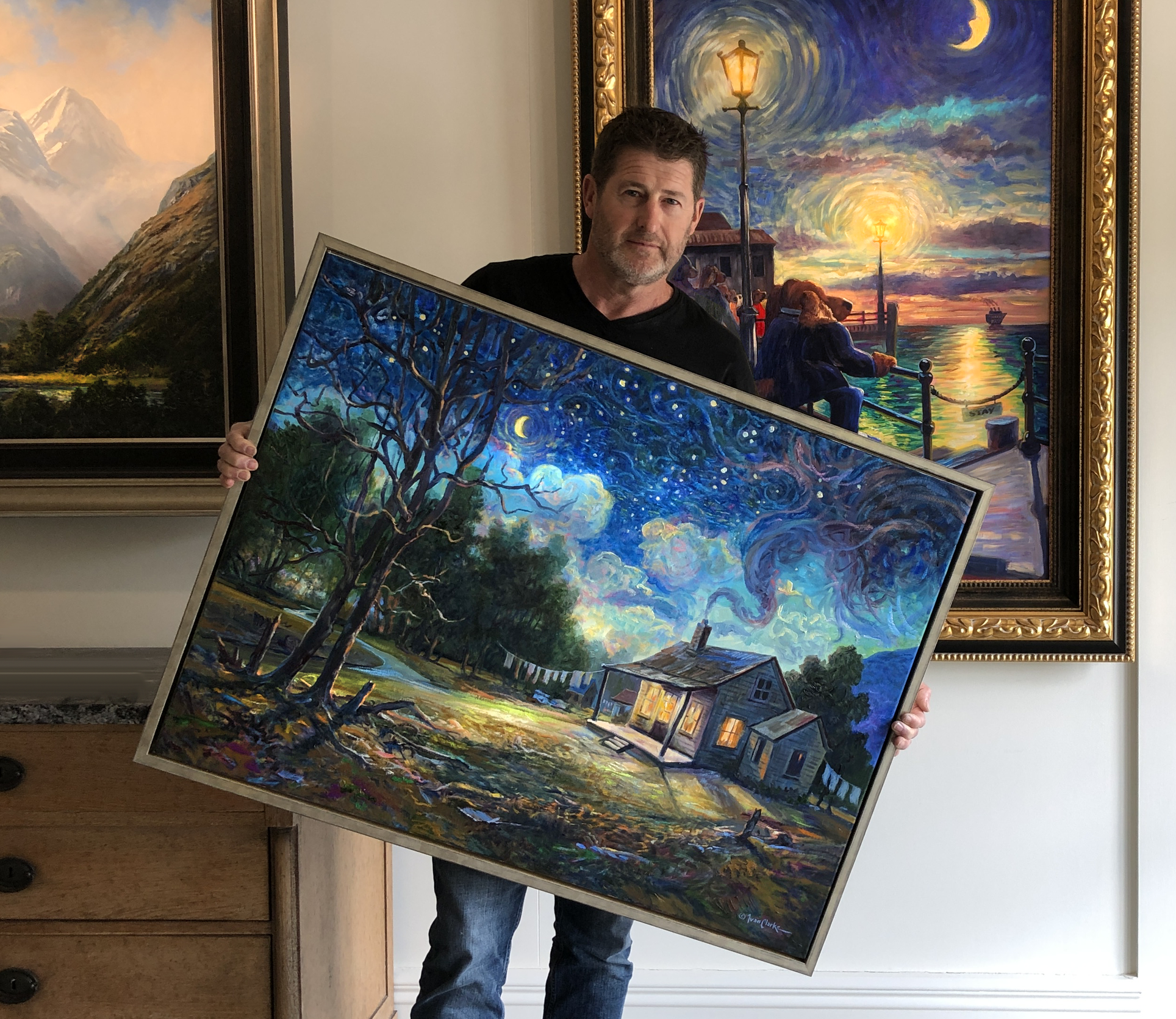 It all began when New Zealand artist Ivan Clarke took his kids on holiday. As the family was departing, they looked back at their pooch who was gazing wistfully after them. "That dog is lonely," Ivan said. Ivan was so moved by the image of his dog's longing that, upon their return, he sketched and then painted a picture unlike any he had ever done before. Instead of his typical gorgeous and realistic landscapes brimming with light, Ivan had created a moody, yet whimsical image of a dog, standing fully clothed, looking pensively after a departing ship, lit by an over-bright moon. He named the painting "Bon Voyage." The painting was cast aside and forgotten until a friend later enquired about it, face to the wall, in Ivan's studio. Explanation was given by Ivan in the form of a far-fetched tale that Ivan says just came off the top of his head.
A legacy was born. Ivan's imagination became energized by this singular painting, so much so he began a second painting he named "Outrageous Gossip" which led to more "tales" and the rest is history.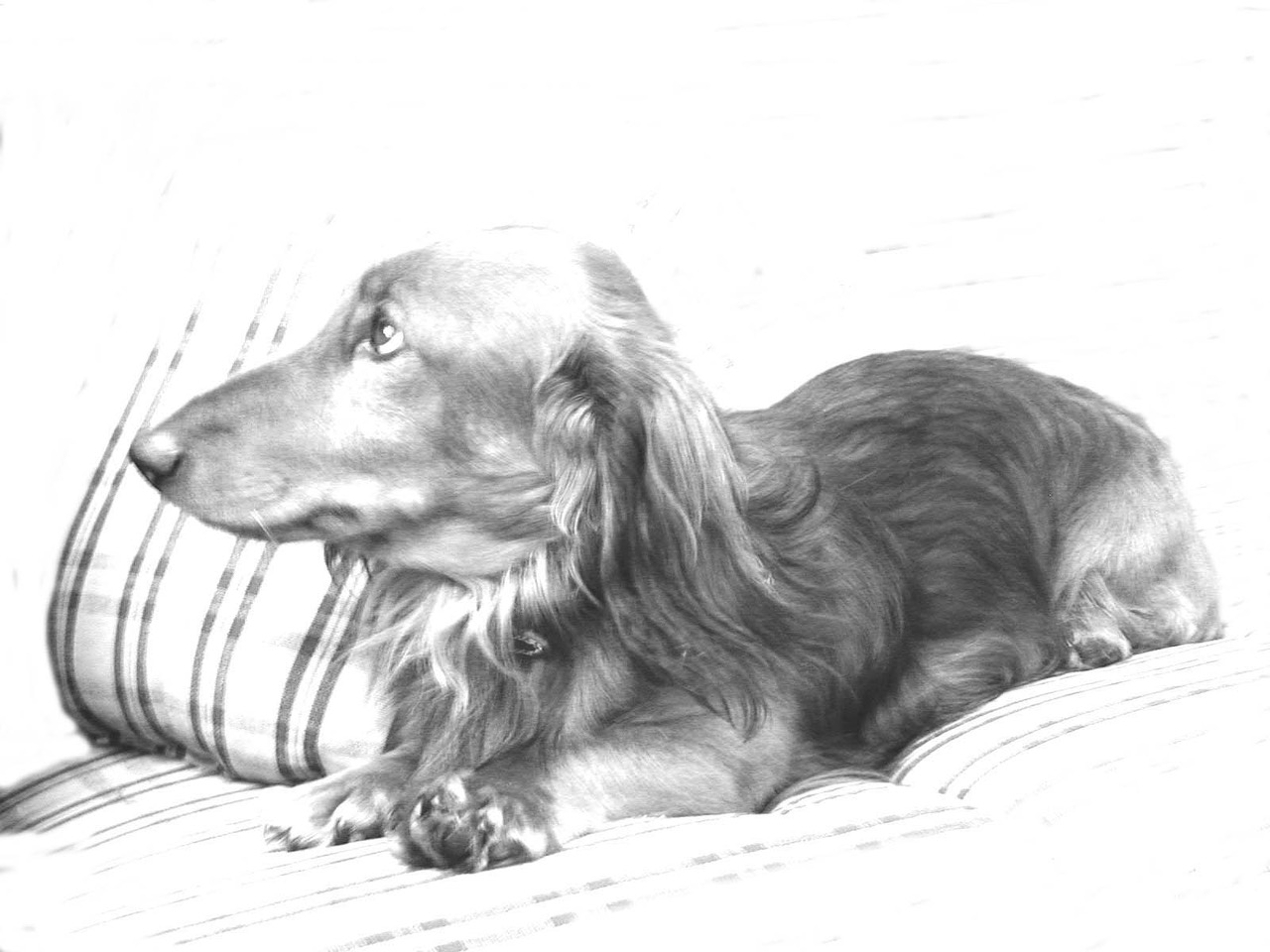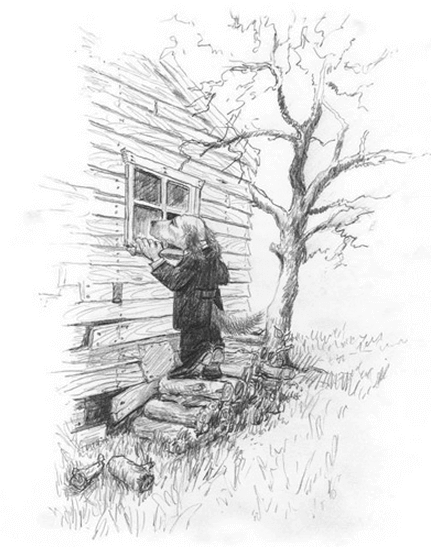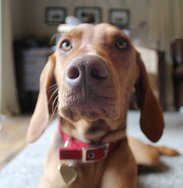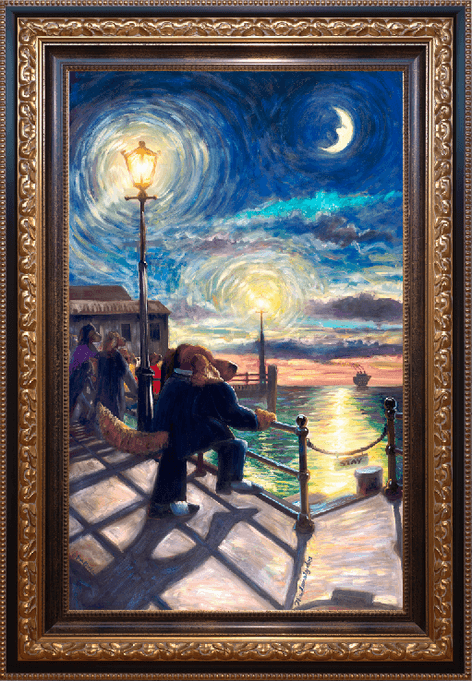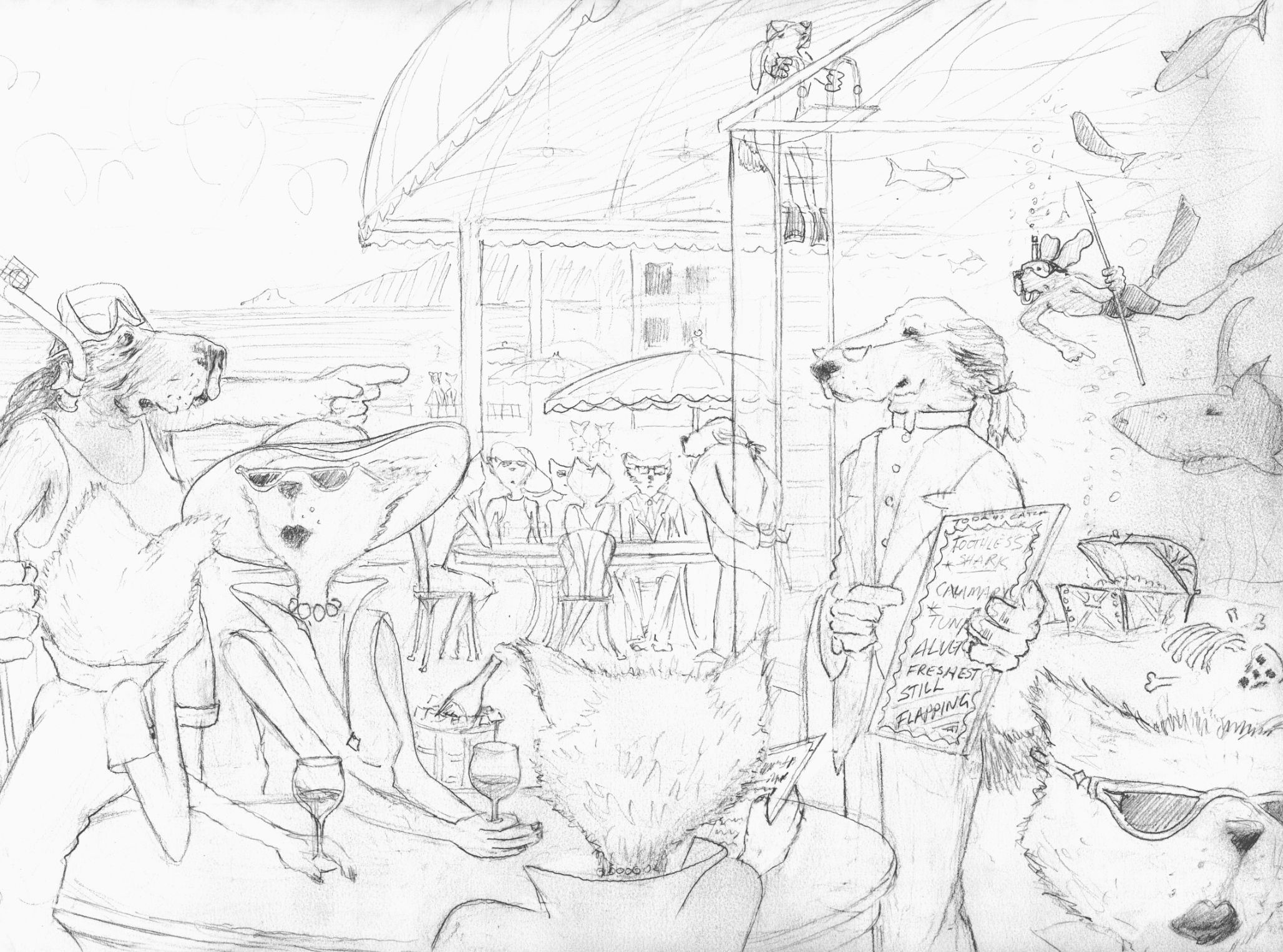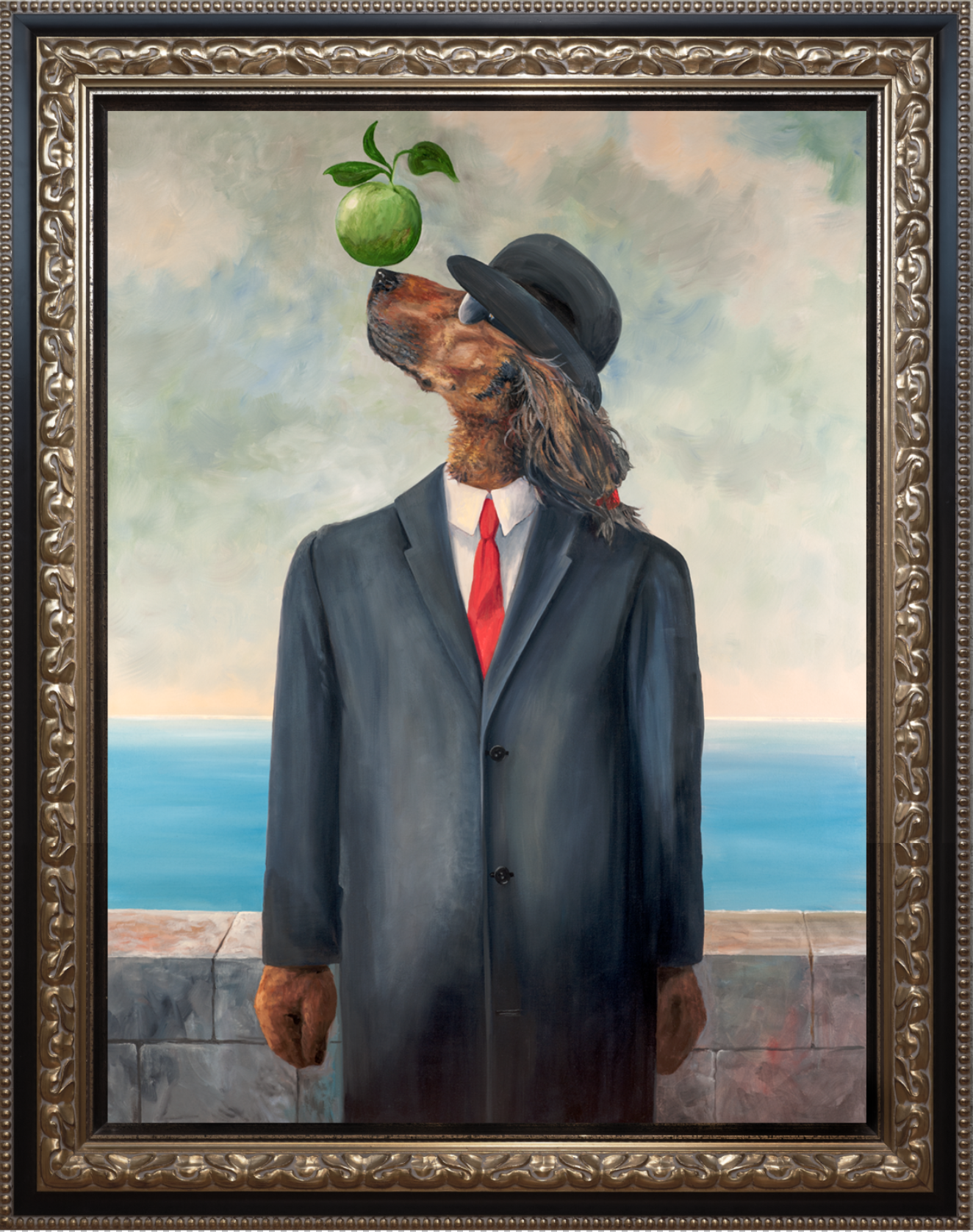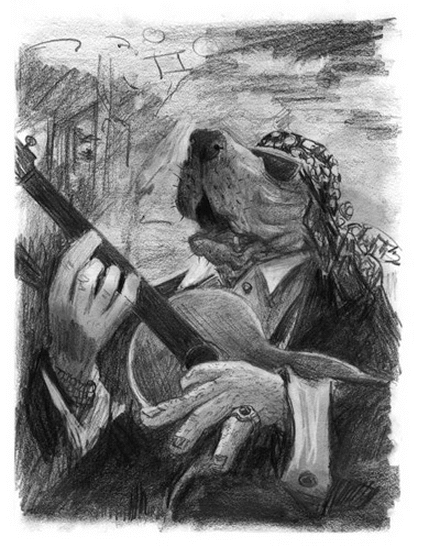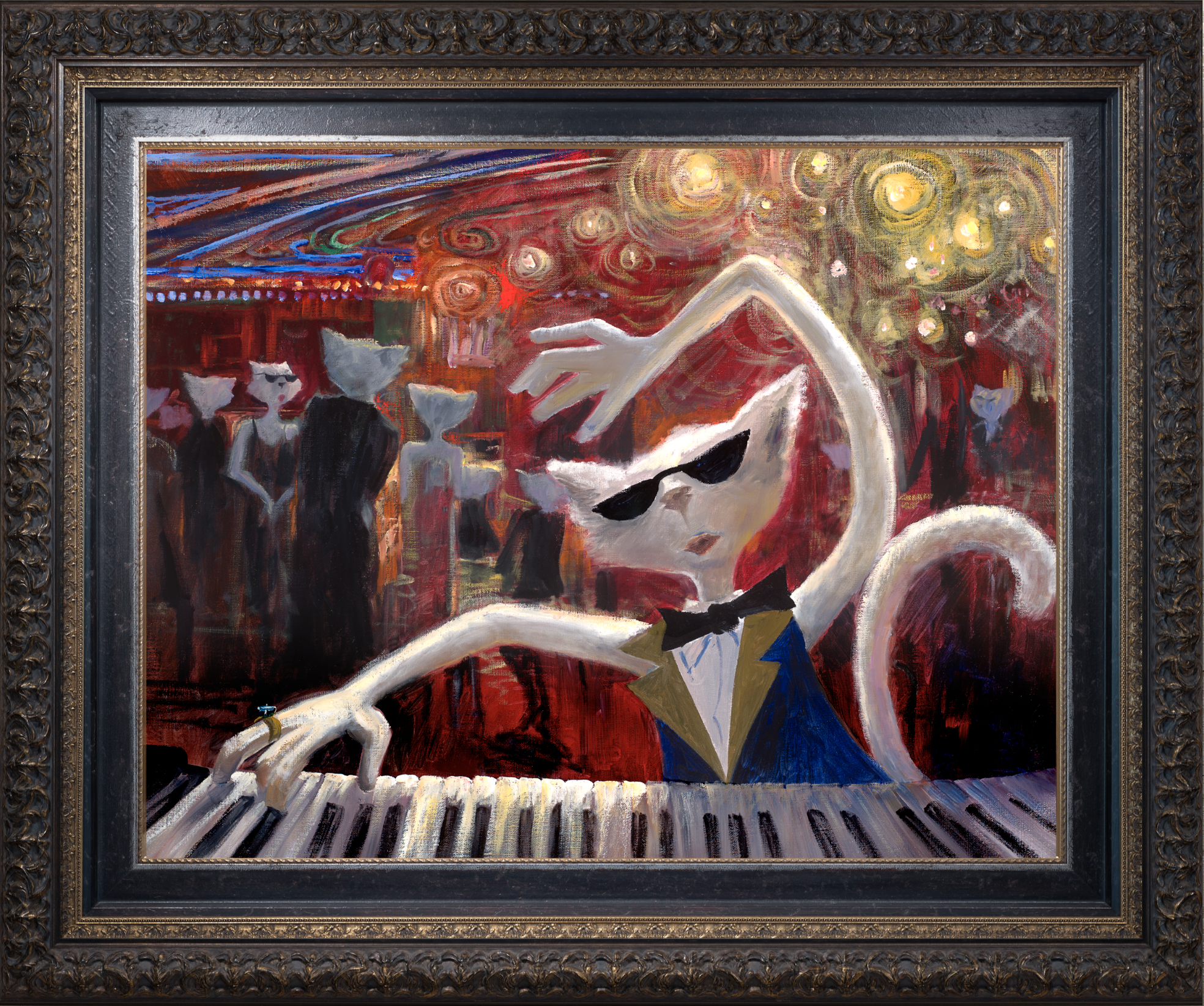 "it began with a doodle while I was on the phone…" 
Ivan's paintings featuring Lonely Dog and the other characters of Alveridge have now grown into an enormous assemblage of over 200 pieces, known as the Lonely Dog Legacy Collection. All of the original Lonely Dog paintings are held in Ivan's private art collection, none have been sold.
The Art Collection takes viewers on a journey into a truly eccentric and whimsical world that has caught the imagination of thousands of people around the world.
The collection is exhibited in Ivan's central Queenstown Art Gallery as well as internationally in galleries in the UK, USA, Hawaii, NZ and Australia and is now the most prolific art-based license to come out of New Zealand.
See the full Lonely Dog art collection of museum quality limited edition artworks printed in light-fast pigments on artists canvas – AVAILABLE HERE / ART ENQUIRIES
Two Friends created something special
" Lonely Dog – Birth of a Legend" – (SOLD OUT) written and illustrated by Ivan Clarke. This was a limited edition hardback coffee table style book that was limited to 300 copies only. This has now become a rare collectable.
"Alveridgea and the Legend of the Lonely Dog" – the "Almalouge" as Ivan named it which was his description of a huge book that resembled "a bit Almanac and part Travelogue – with pictures". This was created by Ivan Clarke and old school mate Stu Duval – author and story-teller and produced by Graham Burt and Garry Phipps.  Once again this was a limited edition including a collection of art and writings signed and numbered by Ivan Clarke in a Leather embossed cover. Each book came in it's own wooden display box with cover embellished with a medallion and corners sculpted by Weta Workshop. Insertions of "found" Alveridgean items handcrafted and aged – including newspaper, postcards, beer mat, magazine cover, poster, map, etc. with tipped-in colour plates, pencil sketches and memorabilia printed throughout make this a real collectible. ENQUIRE / PURCHASE AN ALMALOUGE
"Alveridgea and the Legend of the Lonely Dog" – the Novel  (SOLD OUT) written by Stu Duval and co-written by Ivan Clarke was published by Atlantic Books – London. The work has been highly rated by critics and published in multiple languages.
"Lonely Dog" – the novel, is the expanded story with colour illustrations and paintings giving full account of Lonely Dogs life story taking the reader on a broader journey in the fantastical world of Alveridge.
The book relates the moving journey of Arthur Snout (Lonely Dog) who began life as a houndling, abandoned on the steps of the Houndside Orphanage. All "snout and ears" as a pup, Arthur grows up a loner, bullied by the other orphan houndlings.
Against all odds, Lonely Dog ultimately emerges as a dapper, pin-stripe suited rocker with wing-tipped shoes and a gift for music — ultimately creating a name for himself as a legendary virtuoso. Lonely Dog inhabits a whimsical world where cats and dogs live in a segregated society. His story evolves into a sophisticated tale featuring outrageous notions and ideologies, even as it navigates plot twists, metaphors and social parallels that mirror our own world today.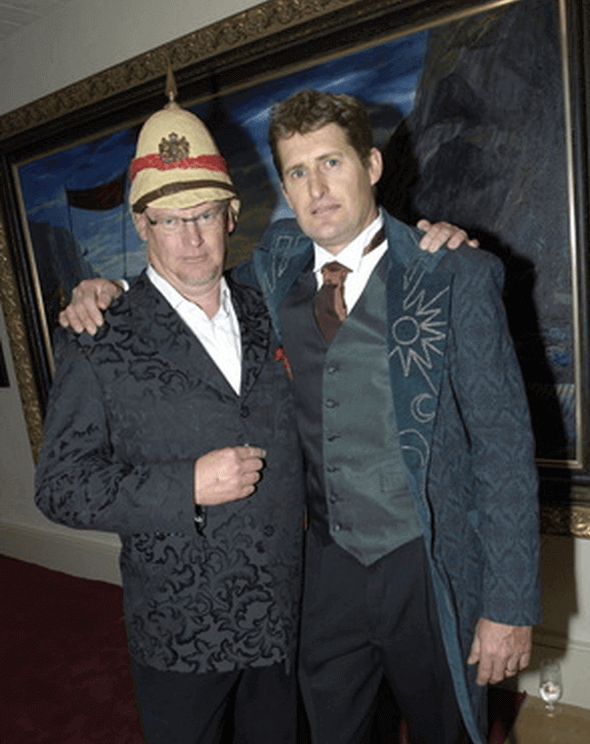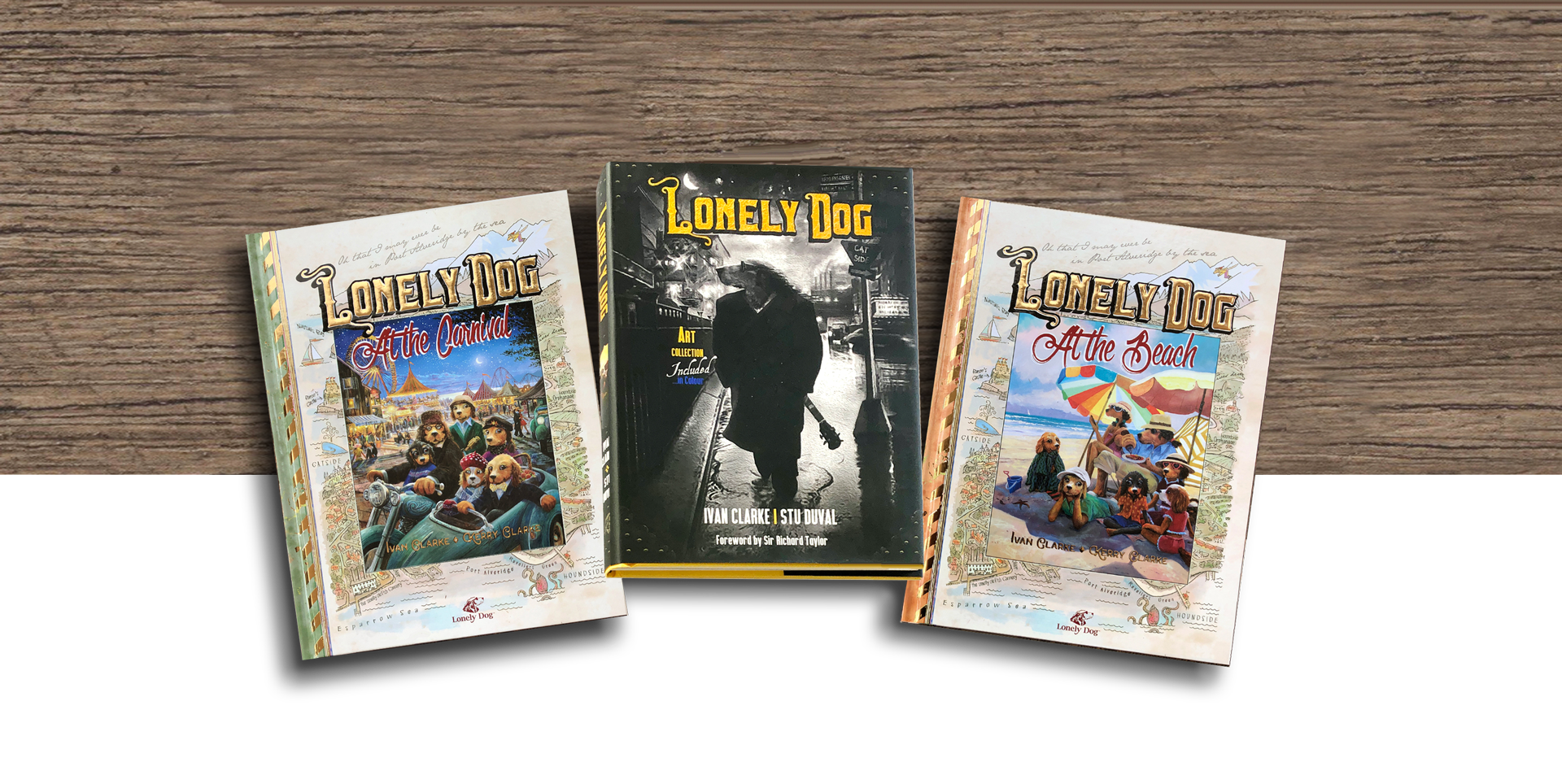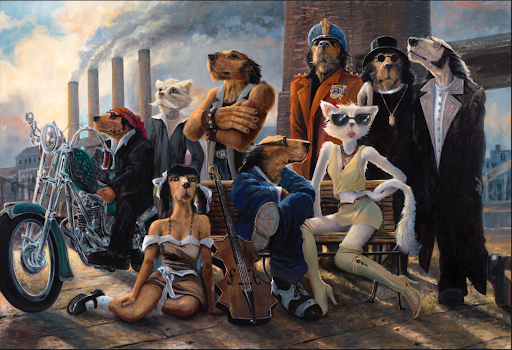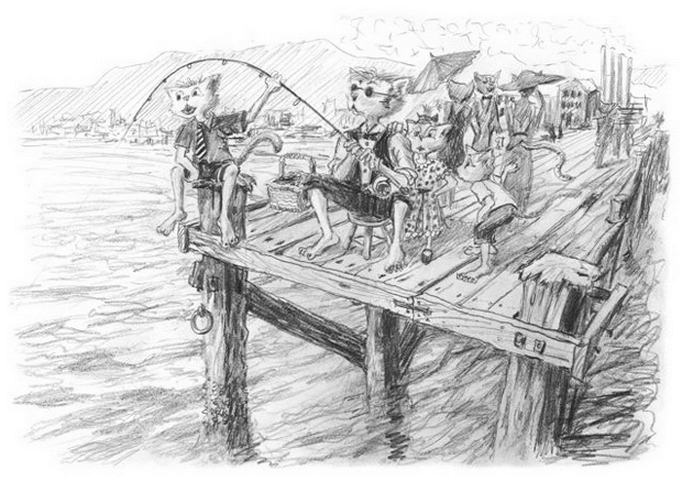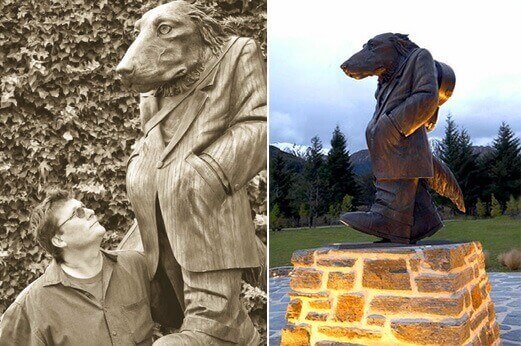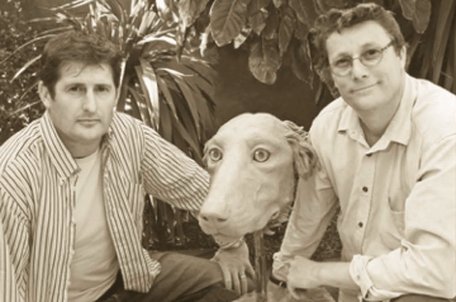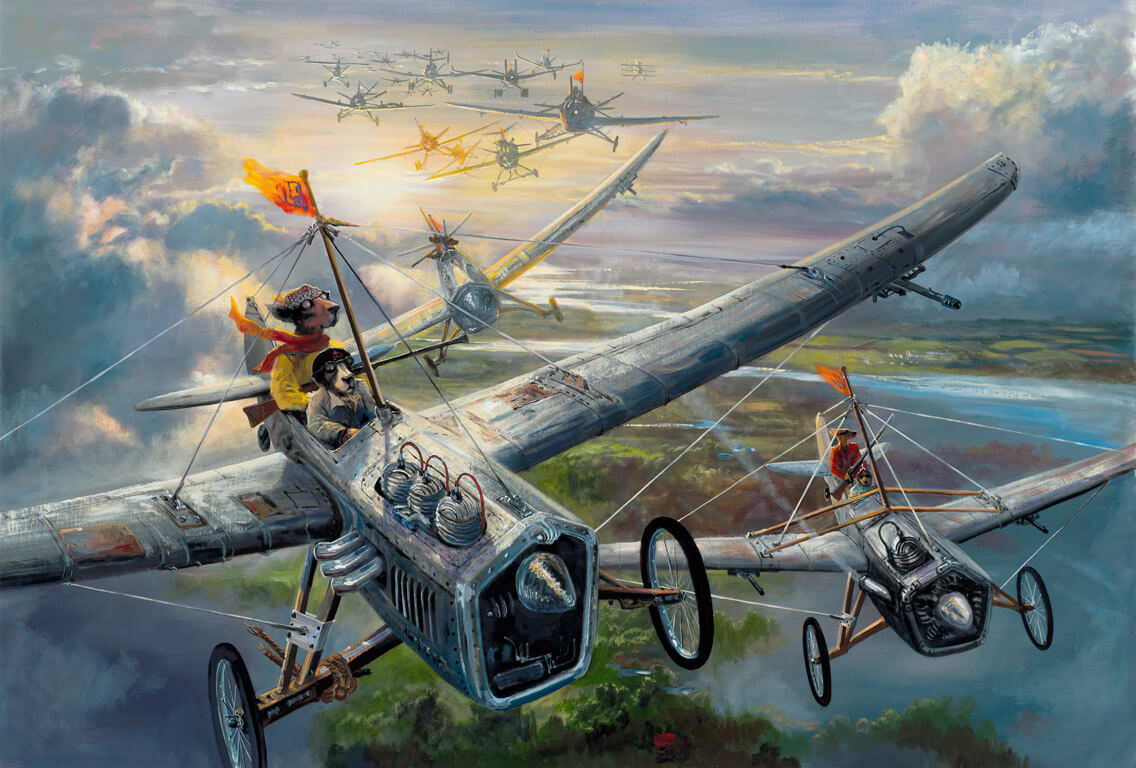 The Lonely Dog Immersive Event – COMING SOON! 
Cliff Dew, of Jumping Frog Entertainment first discovered the Lonely Dog Brand at a Licensing Expo in Las Vegas. He was captured by the world and story.
Together with an extremely talented team of creatives they engaged to produce an interactive experience combining art, music and design in an environment where the audiences are immersed in the experience.
This exciting experience is set to launch in Orlando, Florida in 2022.
Lonely Dog Entertainment is creating new things...